It was a great first tournament. Thanks to all the teams that joined the fun.
1. (4) Wiffle House
Jeff Radoicic and Mike Rudy
These guys embraced the name of the event and turned their bats on, scoring 52 runs in pool play and an additional 39 in their first two games of the bracket. Congrats to these WB legends and we'll see if they can defend the tile in 2020.
2. (2) The Swinging Cocks
Gabe Timmins and Kevin Timmins
Mike P (pictured left) couldn't make it, and it was perhaps his absence that left the Swinging C's just short of the title. The older Timmins continued his solid play and this team will only get better as Gabe ages.
3. (1) Waffle Ball
Brenden Radoicic and Dom Mora
The day started as business as normal, but then in game 3 Dom gave up his first runs in wiffle ball action. This seemed to rattle the young duo who dropped their first game of the bracket vs The Swinging C's 3 to 7. We expect these guys will be back with a chip on their shoulders next year.
4. (5) Little Bavaria Goes Italian
Greg Downey, Brian Toth, andNick Diponio
Things were looking good for this trio as they went 3-0 in pool play including an extra inning 1-0 victory over the Swinging C's. Unfortunately for them the wheels fell off as they gave up 18 runs to Wiffle House in the semifinals. Rumor has it several teams were at the HVAC recruiting Diponio for next year, so we'll see what happens.
5. (7) The Rubber Men
Tom Poznick and Marty Strauch
A solid day of WB for the Rubber Men as they went 2-1 in pool play, including an upset over the #3 seeded Scared Hitless. They ran into the offensive buzz saw of Wiffle House in Round 1 of the bracket and their day was done. We'll see if they can convince their old teammates to join them next year.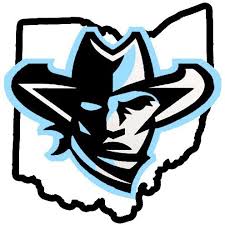 6. (6) Ohio Mavericks
Joe Bjorkman and Matt Leising
Bjorkman may have set a single day record for dingers and the future is bright for this 16 year old. Ohio aka Matt got some valuable WB experience and hopefully he can convince one of his hoops buddies to join his squad next year.
7. (9) Coach, Coach, Coach
Eric Hinka, Mike Jenkins, and Bob guttovz
A solid effort by the coaches, especially in the uniform department. Their WB game isn't bad either, despite starting slow going 0-3 in pool. Once they figured things out, they rallied for three straight wins to claim the 2019 B Flight Championship.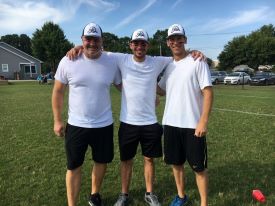 8. (3) Scared Hitless
Dan troger, dan hurst, and pat misch

Our scouts may have given these guys a little too much hype, but we suspect they'll come back strong in 2020. They did rally for 2 W's before losing in the B Flight championship.
9. (10) Chicken and Wiffles
Rob Baker and Ross Bakers
This duo of one time Northville Mustangs had a solid day of WB and showed promise for 2020. They picked up a W in pool play but lost in the bracket to the Coaches. Perhaps Ross will devote time at his new gig to recess with wiffles?
10. (8) The Thundercats
James Sansoterra and nick humphries
The Cats picked up two wins on the day and have laid the foundation for a bright HFTV future. Their day ended with a loss in the B Flight semis to Scared Hitless.
11. (11) Plastic Crushers
Jill Brower, jennifer bjorkman, and Tricia Rayner

These pioneers of HFTV braved the male tourney and did not disappoint with their effort. This experience should make them a force when we host the first female tourney in 2020.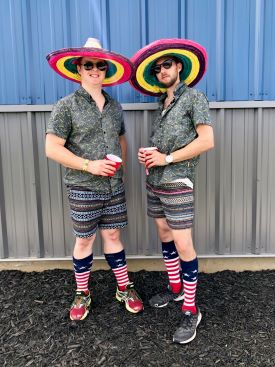 12. (12) Stanky Wiff
Jeff Cymbalski and Dan St. Aubin
The energy-Awesome
The uniforms-Fantastic
The WB-Will only get better.
We expect these guys to make a splash in Year 2.